Hotel/Travel Information
Conference Hotel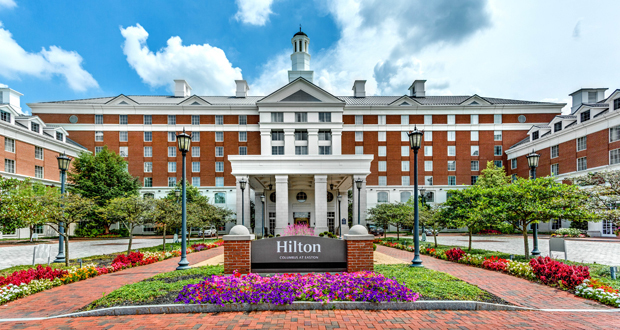 Hilton Columbus at Easton
3900 Chagrin Drive, Columbus, Ohio, 43219
Phone: (614) 414-5000
Free parking onsite surrounding hotel.
Easton's thriving corporate and retail centers make Hilton Columbus at Easton the perfect location to hold a conference or stay overnight for a leisurely visit. Easton Town Center is just a few steps outside our front door. This exciting mall is a unique blend of a classic vintage town center, yet a stylish entertainment Mecca. Wander down cobbled walkways to the old-fashioned town square. Discover treasures hidden away in dozens of exclusive shops and boutiques. There are more than 100 shops, restaurants, clubs and entertainment sites. It's all just steps away from the Hilton Columbus at Easton and it's all unforgettable.
Click here to visit Easton Town Center.
The hotel is ten minutes from downtown Columbus and 15 minutes from Ohio State University. Local corporate headquarters for Limited Brands, JP Chase, Abercrombie & Fitch are close by and John Glenn Columbus International Airport is just four miles away.
Two Ways to Reserve Your Room
Hilton Columbus at Easton
A room rate of $201.00 is being offered to LeadingAge Ohio 2022 Annual Conference attendees when mentioning LAO during the reservation process. Be sure to make reservations by July 30 to take advantage of this special rate. Reservation requests received after the cut-off date will be accepted as space and rate availability permits.
Reserve Online: Click here to reserve your room online.
Reserve by Phone: Call 614-414-5000 and indicate you are there for the LeadingAge Ohio conference to obtain the special conference pricing.
*UPDATE: If hotel room nights are not available, please contact Karen Lowe klowe@leadingageohio.org for assistance in making a reservation.
Sponsors
---
Become a Sponsor
Please contact Corey Markham at 614-545-9015 for information on becoming a Sponsor!